Profile Questionnaire Insight

Welcome to the Color Persona Profile Questionnaire insight Page. Here, we provide you with information on how you should complete the Questionnaire. Please follow the guidelines set out below so that we can get the most accurate Profile report for you.
There is a video guide below, on how to complete the questionnaire, this will give you a taste of what to expect.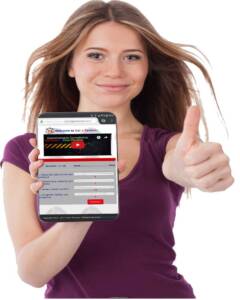 Questionnaire Completion Guide Video

Approach
When completing the questionnaire, take note of the following Profile Questionnaire Insight information.
Complete the questionnaire as the Instinctive you, since the first choice usually gives the best results. Avoid spending too much time on the statements.

Complete the questionnaire with the mindset of what you are like with Family & Friends. We want to learn what you are like socially with Family & Friends (the real you).

Avoid completing the questionnaire as the 'Work' you,  as we tend to behave differently at work than we do with Family & Friends.

This is not a Test, there is no right or wrong answer.

Complete the questionnaire in one sitting. Avoid going for long breaks,

otherwise

, you will get timed out!

The Questionnaire should take between 10 to 18 minutes to complete.
Questionnaire Completion

When completing the questionnaire, follow the rules below for a hassle-free experience. There are either 10 or 20 questions, depending on the profile report you have been requested to complete. Each question consists of 4 sets of statements.

The first part of the questionnaire is the Personal details page, where important information is required in order to process your profile and generate an accurate report for you. See sample image of information required.
Your information is kept confidential and we do not share it with third parties.
Note:
Gender is important as the report is gender specific
The first name is incorporated through out the report. When entering the First name, enter a preferred name. e.g. Dave instead of David or Bill instead of William, Jon instead of Jonathan, Mike instead of Michael-Gordon.
You must select One option which is Most Like you (move the slider bar to the far right – with a score of 10).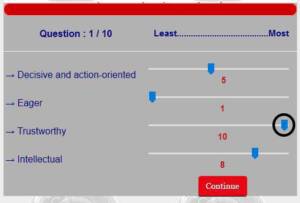 You must select One option which is Least Like you (move the slider bar to the far Left- with a score of 1 ).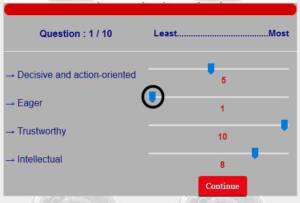 For the remaining 2 options, rate the score between 2 and 9 (inclusive). These selections are important as they have a bearing on the over all results.
Ensure each option selected is unique. E.g. no two answers are the same. Duplicate choices will give an error message before you can continue.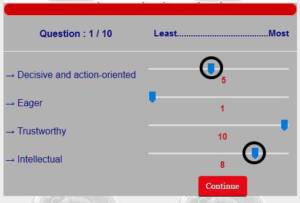 Repeat the process until all the questions have been completed, then Submit the answers to Color Persona.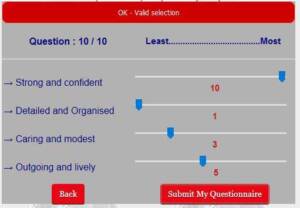 Notes.
When the Profile questionnaire has been

successfully

completed and submitted, the PDF profile report will be emailed to you within 5 minutes. If you are required to make a payment after completing the questionnaire and have not paid, the report will not be published until payment has been made.

Ensure

that you add the following email address to your email contacts list to avoid emails and reports going to spam/junk